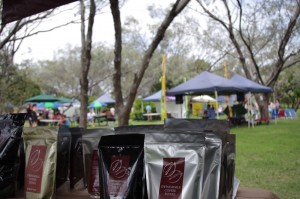 You can now visit our Mid North Coast market stores at Bellingen (Sat) and Coffs Harbour (Sun), on the 3rd weekend of every month and buy Ewingsdale Coffee.
Grown at Byron Bay, this 100% Australian grown coffee is available as whole beans, ground fine (Espresso grind),
for use in machines or stove top appliances, and a coarser grind (plunger grind)for those who like plunger style coffee.
With now four varieties of blends to choose from. Visit our market store and let Chris take you through each style. From a dark roasted 'continental style of bean' right through to our lightly roasted ' Byron bay Blend'.
Support Australian Grown produce and buy local.
As we like to say here at Ewingsdale  'You can taste the love in every bean.'