Plantation News
Byron Bay is a great place to holiday and if you have the time,  you can experience how a Australian coffee plantation works. Visitors this year have helped hand pick our organically grown coffee.Participated in a final sorting of the fruit before pulping. Some saw our beans being fermented in rainwater while others, washed the fermented beans and laid them out on our drying beds, to let the sun finish the process.
Here is a quick look at who visited: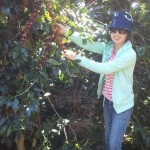 Cathy from Taiwan spent 2 days hand picking Australian grown arabica varieties at Ewingsdale Coffee Estate. As a trained barista and being involved with a coffee business back home, Cathy wanted to see how an Australian coffee plantation worked. We were only to happy to let her help out.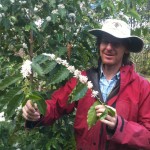 Glen has been a regular visitor during our 2012 harvest season. Not only did Glen get to see our organically grown coffee at it's various stages of ripening, he posed for this photo (23/10/12), as last years new growth burst into flower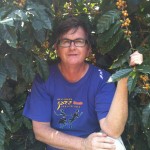 Chris took time out in his busy schedule, to help out with harvest for a few days during recent school holidays.Chris runs the market stall on the Mid-North coast town of Bellingen (3rd Sat of every month), selling Ewingsdale coffee.
If you live in the area, visit the market and grab yourself  " Byron Bay's finest hand crafted coffee". If you are running low on supplies, ring 02 6655 2361 and Chris will do his utmost to keep your pantry full of Ewingsdale coffee.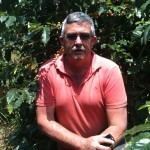 On his way back from a recent Rugby test in Brisbane, Matt dropped in and helped process the days harvest. Grown in Byron Bay, processed and roasted locally. Ewingsdale Coffee has found a new convert. Look for a pod coffee machine for sale on Ebay. Why buy coffee that is flown halfway around the world, when you can buy organically grown beans, save the environment and support an Australian grower ?